As of January 1st, 2017, Amistad Canada welcomes a new project partner:
PATRONATO PRO NIÑOS
By providing medical, dental care, Patronato Pro Niños helps children from economically disadvantaged San Miguel families lead healthier, fuller lives. Since we began in 1970, our organization has grown to provide medical services to more than 11,000 children a year, many in the small rural communities that surround SMA.
Amistad Canada's partnership will support the purchase of a new mobile dental van and maintenance of the existing van fleet.
If you wish to make a Canadian tax-deductible donation to Patronato Pro Niños to support Amistad Canada project partner, please go to Amistad Canada DONATE page. All the required information is there, including a downloadable donation form.
Or, make an easy, quick and secure on-line donation via CANADA HELPS (and your tax receipt will be seat immediately).

AMISTAD CANADA's work is built upon the efforts of Canadians with a strong connection with the Mexican town of San Miguel de Allende.
#SavetheDate
Amistad Canada presents The Film, "CHAVELA".
An affectionate portrayal of "Chavela Vargas", a charismatic musical artist who charmed audiences with her unique interpretation of Mexican music.
A benefit for Patronato Pro Niños de San Miguel de Allende, A.C., a project partner of AMISTAD CANADA, wigh provides dental, medical and psychological services for children in rural México.
GENERAL ADMISSION: $50
PATRON TICKETS: $100
(Incluyes a tax receipt and reception preceding the film)
Sunday, September 23,2018.
4:00 to 6:00 pm
The Revue Cinema
400 Roncesvalles Avenue
Toronto, Canada.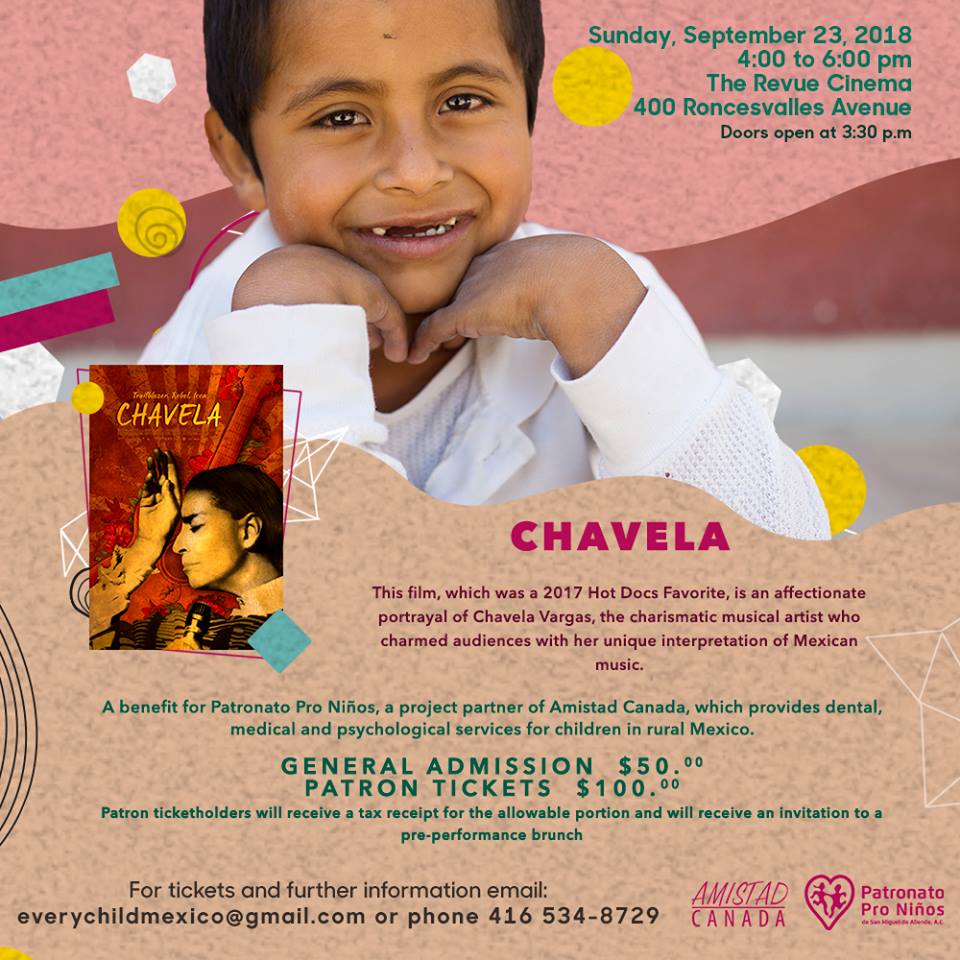 History of Amistad Canada
"The organization has its origins in San Miguel de Allende, a small colonial city in Mexico's Guanajuato state, where a sizeable group of people who come from cold climates spend their winters and, in some cases, their retirement years. Responding to the vitality and warmth of San Miguel's community life and the very evident need of the local population for more social support, many people in the expatriate community become active in supporting social agencies that provide services to those in need. Amistad Canada has been formed to help Canadians participate more effectively in such efforts.
It was organized, incorporated and registered under the Income Tax Act in 2009 — a lengthy process that was led by Mel Kliman, at that time Amistad's Treasurer and Administrative Director, and later President (2011-13). But the organization was built on the foundation of a fundraising effort by Canadians in San Miguel that goes much further back.
Canada's Ambassador to Mexico attended some of these and the Embassy matched private donations. In the 2000s, fundraising events were organized in both Toronto and San Miguel by Aileen's daughter, Elizabeth Harris, who was the first President of Amistad Canada, until her untimely death in March 2011.
Our newest partner-agency is Patronato Pro Niños, which operates an ambitious program of dental and health services. As of January 2017, Amistad is helping to provide mobile dental services in rural communities by collecting funds that will, along with support from other contributors, be used to purchase a new dental van and fund the maintenance of existing mobile units."