(See
WHO WE ARE
for more information).
Some highlights of the tour include: Parroquia - San Miguel's iconic landmark church, Casa de Allende - the birthplace of Ignacio Allende, hero of Mexican Independence, Casa Canal - the magnificent former home of San Miguel's most of prominent family, Bellas Artes - once a convent, then San Miguel's first school of art, now a cultural center, Vida y Obra de General Ignacio Allende - David Siqueiros' famous unfinished mural and House of Conspiracies - where the War of Independence was planned.
The Historical Walking Tour has been awarded TripAdvisor's Certificate of Excellence.
Regularly scheduled tours take place every Monday, Wednesday, and Friday. Groups meet in the Jardin across from the Parroquia (large church) at 9:45 AM, and leave at 10:00 AM. Cost: 300 pesos
ABOUT OUR ARCHITECTURAL WALKING TOUR
On the third Thursday of each month, we offer a special Architectural Tour of the downtown area. This tour will be of interest to anyone who is at all curious about the fabulous buildings of San Miguel. You'll view buildings that represent more than 400 years of different architectural styles. It is an architectural area frozen in time with laws to protect it.
Your donation goes to support the work of Patronato Pro Niños.
The tour leaves from the Parroquia promptly at 10:00 AM and lasts approximately 2 ½ hours. No reservations are needed, but we do limit the size of the groups. Cost: 350 pesos
.
PRIVATE TOURS AVAILABLE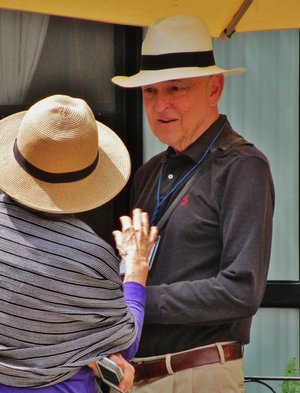 Private historical and architectural tours are available by calling Cris at 152-7796 during office hours (9;00 AM - 4;00 PM), or emailing us at historicalwt@patronatoproninos.org or by completing the form on the CONTACT FORM
You can pick the tour's date and time. Please give at least 5 business days to arrange your tour. The donation for private tours for 1 to 4 people is 1,600 pesos. Add 400 pesos for each individual person. Private Architectural Tours are 1,800 pesos for 1 to 4 people. Add 450 pesos for each additional person.
For more information:

Telephone & Fax: 011 +52 (415)152-7796.
Email us at: historicalwt@patronatoproninos.org
Or visit our Website:
www.historicalwalkingtour.org